Intelligent Security and Health
Overview
Keeping your cloud healthy is no more an arduous task. Centilytics helps you with your infrastructure performance and compliances like PCI DSS, CIS, HIPAA, GDPR, ISO 27001, and NIST 800-53 through an automated console.

We help you prevent, detect, and respond to factors holding your business back, ensuring that your cloud remains stable, secure, and compliant.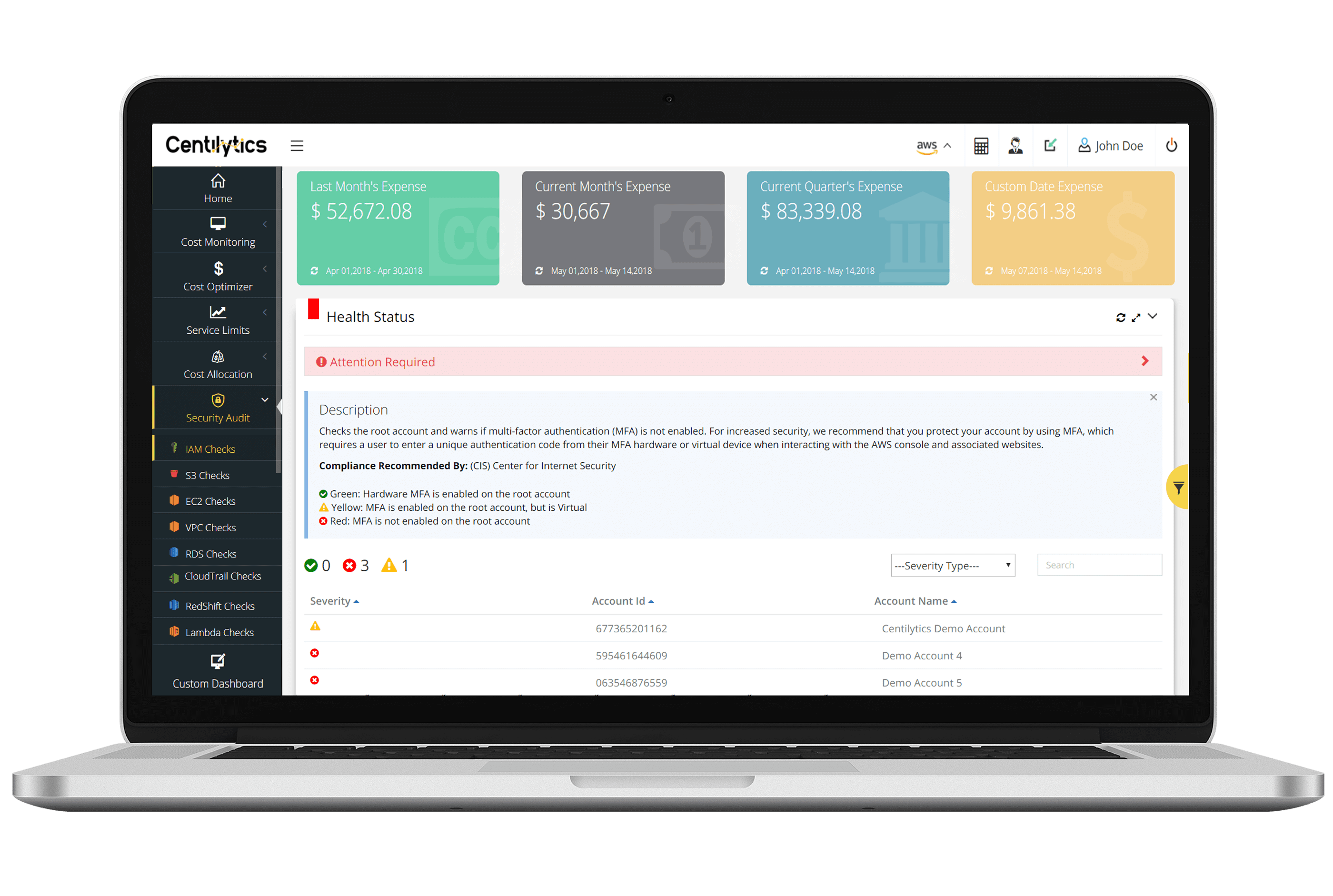 Security Audit
Is your entire infrastructure secure enough to stand threats and malicious attacks? Even a part of your environment exposed to suspicious activities can get your entire security posture compromised. Unveiling risks and taking control over your cloud security needs a complete security audit to take your cloud's health a level up.
Centilytics offers you the "Security Audit" module where you get a comprehensive set of security checks, best practices, and recommendations on redefining the security state of your cloud resources. We do a perimeter scan and identify all publicly accessible resources, open ports, exposed keys, and protocols.

Performance Optimizer
Make sure that the performance of your cloud services does not degrade and continue to run at standard optimum level. With our recommended actions for improving your cloud efficiency, you can boost up the speed and responsiveness of your mission-critical workloads. Hence, you get to keep the performance factor of your cloud in place and keep the wheels running.
Checks that examine the usage limits of your service(s), ensures your applications make the most out of provisioned throughput and monitors for overutilized instances.

Fault Tolerance
Our useful recommendations on backup and recovery from failures help you proactively manage all your cloud disorders and instabilities. Reduce the impact of unpredicted or emerging faults with health checks, auto-scaling recommendations, multiple availability zones (AZs) and more

Service Limits
To avoid misuse and do internal capacity planning, public clouds define limits for each service. While some are soft limits that can be increased, certain limits involve their own architectural limitations.
Being aware of these service limits while developing or scaling your applications is critical to avoid a major future crisis. Our Service Limits module gives you actionable insights and warnings on your service usage and limits before they breach.

0

1200

+
Health Checks

0

120

+
Security Checks

0

40

+
Service Limits
Highlights